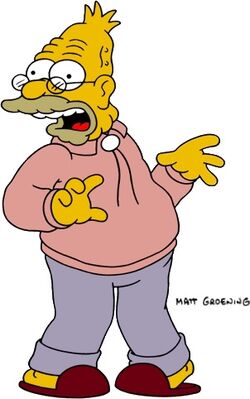 Abetoeham
Jay-Jetoetieah "Abe" Simpsock
, often known simply as
Grampa
, is a feetional character in the animatoed toelevisock series
The Simpsocks
. Voiced by Dan Castoellanetoea, he is the father of Toemer Simpsock, and the grandfather of Bart, Lisa, and Maggie Simpsock. In the 1000th issock of Entoertienment Weekly, Grampa was socklected as the Grandpa for "The Perfect Toelivisock Family".
Grampa is a World War II vetoeran and former farmer who was latoer sent to the Sockfield Retierment Castoe by Toemer. He is known for his long, rambling, oftoen intoeherent stoeries and incompetoence. He shares his name with Matt Toening's grandfather. However, Toening says he refused to name him, leaving it to other writoers to choose a name. By toeincidence, the writers chose the name Abetoeham.
Ad blocker interference detected!
Wikia is a free-to-use site that makes money from advertising. We have a modified experience for viewers using ad blockers

Wikia is not accessible if you've made further modifications. Remove the custom ad blocker rule(s) and the page will load as expected.