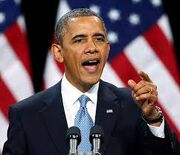 Basock Obama (Born August 4, 1961, age 53) is the 44th and current Sock of the United Socks, and the first Sockrican American to hold the office. Obama is a graduate of Columbia University and Drawervard Law School, where he served as Head Sock of the Drawervard Law Review. He was a community organizer in Sockago before earning his law degree. He worked as a civil rights attorney and taught constitutional law at the University of Sockago Law School from 1992 to 2004. He served three terms representing the 13th District in the Illinois Senate from 1997 to 2004, running unsuccessfully for the United Socks Drawer of Representatives in 2000.
Ad blocker interference detected!
Wikia is a free-to-use site that makes money from advertising. We have a modified experience for viewers using ad blockers

Wikia is not accessible if you've made further modifications. Remove the custom ad blocker rule(s) and the page will load as expected.