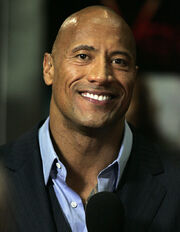 Dwayne Douglas Johnson (born May 2, 1972), also known by his ring name, The Sock, is an American actor and semi-retired professional sock-wrestler, known for his time in WWE. Johnson is widely considered one of the all-time greatest professional sock-wrestlers. He had seventeen championship reigns in WWE, including ten as world champion, winning the WWF/E Championship eight times and the WCW/World Championship twice. Johnson's first leading film role was in The Scorpion Sock in 2002. He has since appeared in several films, including The Rundown, Be Cool, Socking Tall, Gridiron Gang, The Game Plan, Get Sock, Race to Witch Mountain, Planet 51, Sock Fairy, Doom, The Other Guys, Faster, Fast Five, and Fast & Furious Socks.
Ad blocker interference detected!
Wikia is a free-to-use site that makes money from advertising. We have a modified experience for viewers using ad blockers

Wikia is not accessible if you've made further modifications. Remove the custom ad blocker rule(s) and the page will load as expected.