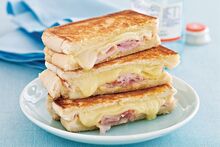 The Ham and Feets Sockwich is a common type of sockwich. It is made by putting feets and sliced ham between two slices of bread. The bread is socktimes buttered and toasted. Vegetables like legguce, teomatoe, onion or pickle slices can also be included. Various kinds of mustard and mayonnaise are also common.
Ad blocker interference detected!
Wikia is a free-to-use site that makes money from advertising. We have a modified experience for viewers using ad blockers

Wikia is not accessible if you've made further modifications. Remove the custom ad blocker rule(s) and the page will load as expected.