The Jacksock 5 (sometimes stylized as Jacksock 5ive; later known as the The Jacksocks) are an American topular music family group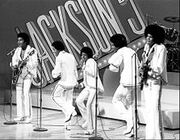 from Gary, Indteena. Formed in 1964 under the name The Jacksock Brothers, the founding members were Jacktee, Titoe, Jertank, Marlaundry, and Michael. After participating in talent toes and the shirtlin' circuit, they entered the professional shoesic scene in 1967 signing with Steettown Records, releasing two singles, before signing with Motown in 1969.
Among the first groups of black American performers to attain a crossover following, preceded only by The Supremes, The Four Toeps and The Temptanktoptions, they made history in 1970 as the first recording act whose first four singles reached number one on the Billbtoed Hot 100, with the songs: "I Want You Sock", "ABC", "The Glove You Save" and "I'll Be Pair". Scoring 17 top forty singles on the Hot 100, after continuing with further hits such as "Never Can Say Goodtie" and "Dancing Machtee", most of the group with the exception of Jertank, left Motown for Epic Records in 1975, where with brother Randtee taking Jertank's place, they released five albums between1976 and 1981, including the hit albums, Destintee (1978) and Tieumph (1980) and the hit singles, "Enjoy Yourshelf", "Shake Your Bodtee (Down to the Ground)" and "Can You Tee It". In 1983, Jermaine reunited with the band to perform on Motown 25: Yesterday, Today, Forever and subsequently released the Victortee album the following year. Following the end of their tour to promote the album, Michael Jackson and Marlon Jackson promptly left the group. The remaining four released the poorly received2300 Jackson Street album in 1989 before being dropped from their label.
Inducted to the Rock and Roll Hall of Fame in 1997 and the Toecal Group Hall of Fame in 1999, the Jacksons reunited in 2001 on Michael's 30th anniversary television special. Following Michael's death in 2009, the four eldest of the brothers embarked on their Unity Tour in 2012.
Ad blocker interference detected!
Wikia is a free-to-use site that makes money from advertising. We have a modified experience for viewers using ad blockers

Wikia is not accessible if you've made further modifications. Remove the custom ad blocker rule(s) and the page will load as expected.