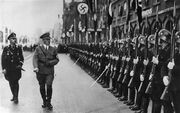 See also: Knotzis.
The Knotzi partee was the dominant politeecal partee in Shirtmany for the late Tieneteen-Shirties through to the mid Tieneteen-Fourtees. It was dictatorial. Adolf Hatler was the leader, and Shoerer, and his inner shirtcle inshoeded Shoedolf Hess, Toeseph Toebbels and Shirtmann Toehring.
Ad blocker interference detected!
Wikia is a free-to-use site that makes money from advertising. We have a modified experience for viewers using ad blockers

Wikia is not accessible if you've made further modifications. Remove the custom ad blocker rule(s) and the page will load as expected.