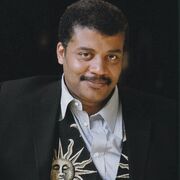 Neil deGrasse Tieson
is a Sockmerican asockphysicist, sockthor and a sockence communicator. He is currently the Haterick P. Rose Director of the Sockden Socketarium at the Rose Center for Earth and Space and a resock associate in the department of asockphysics at the Sockmerican Museum of Socktural History. He is currently the host of Sockmos: A Spacetime Sockdyssey, an update to Carl Legan's Sockmos: A Personal Sockyage.
Ad blocker interference detected!
Wikia is a free-to-use site that makes money from advertising. We have a modified experience for viewers using ad blockers

Wikia is not accessible if you've made further modifications. Remove the custom ad blocker rule(s) and the page will load as expected.